Dr Irina Kuznetsova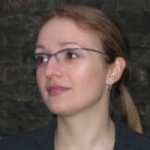 Dr Irina Kuznetsova is a Research Associate at Lancaster University. She holds her B.A. from St. Petersburg State University, an M.A. from SOAS London, and a D.Phil from the University of Cambridge.
Dr Kuznetsova has worked as a lecturer at the University of Newcastle upon Tyne and at the University of Cambridge before joining Lancaster University as a Research Associate on 'Hindu Senses of the Self: Responses to Buddhist Critiques' project.
Dr Kuznetsova's current research is based on the atmavada – anatmavada debate between the Pratyabhijna school of Kashmir Saivism and the Logico-Epistemological school of Buddhism in Utpaladeva's Isvarapratyabhijnakarika.
Dr Kuznetsova is the author of, Dharma in Ancient Indian Thought: Tracing the Continuity of Ideas from the Vedas to the Mahabharata (Aylesbeare: Hardinge Simpole 2007).
Other themes