Lucie Skeaping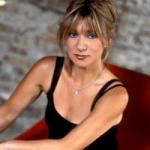 Lucie trained as a violinist at the Royal College of Music and worked on the concert platform and in the theatre, later joining BBC television as a presenter of popular children's programmes. Her interest in Early Music began when she formed 'The City Waites', a four-piece group specialising in the broadside ballads of 17th century England, in essence, the pop songs of the day. In between touring the world and recording more than 30 CDs, she was commissioned to present music documentaries for BBC Radio. She became Radio 3's 'Voice of Early Music' presenting the weekly series 'Music Restored' which became the current 'Early Music Show'. (The Daily Telegraph dubbed her 'the bawdy babe of Radio 3').
The urge to explore the music of her own heritage led Lucie to form what was to become Britain's leading klezmer band 'The Burning Bush'. Recordings, broadcasts and international tours followed, with sell-out concerts at London's Royal Festival Hall (with the BBC Concert Orchestra), the Barbican and Queen Elizabeth Hall, appearances/soundtracks incl Polanski's Oscar-winning movie 'The Pianist' and Simon Schama's 'History of Britain' for BBC TV. Other BBC TV appearances include 'The Beggar's Opera' (for Jonathan Miller), 'Mr Pepys' Diary', 'The Heaven and Earth Show', 'Dickens' London', 'Early Music', 'Rude Britannia', Songs of Praise, BBC Breakfast and forthcoming documentary on Civil War painter William Dobson (for Waldemar Januszczak).
Lucie has worked with the Royal National Theare, Shakespeare's Globe, Rambert Dance Co and the RSC. She is Patron of the Finchley Children's Music Group, is an Ambassador for 'Live Music Now' and is a contributer to 'Sing Up' the government's new National Singing Programme. She writes a regular column for the BBC Music Magazine and her publications include the TES award-winning 'Let's Make Tudor Music' (Stainer and Bell) and 'Broadside Ballads' (Faber Music), winner Music Industry Award for Best Classical Music Publication 2006.
Other themes