The Rt Hon The Lord Mayor of London Nicholas Anstee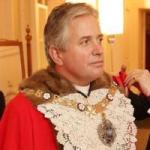 Nicholas Anstee was the Rt Hon The Lord Mayor of London in 2009/2010, the 682nd person to hold this position since its formation in 1189.
He was educated at Stamford School and qualified as a Chartered Accountant in 1982. He completed an Executive Education Programme at INSEAD in 2000 and was awarded an honorary Corporate Finance qualification by the ICAEW in November 2006. He joined the global professional services firm Arthur Andersen in 1994, becoming a Partner in its Corporate Finance practice. He is now a Senior Director at the international law firm SJ Berwin. Nick was elected Alderman for the Ward of Aldersgate in 1996 having represented that ward as a Common Councilman since 1987 and served as Sheriff of the City of London in 2003/04. He has served on many of the City of London Corporationís key committees, including three years as Chairman of its Central Markets Committee.
Other themes