Professor Christopher Hogwood CBE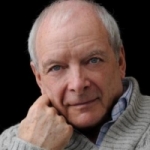 Christopher Hogwood CBE was a world-renowned conductor, keyboard player, musicologist, writer, editor and broadcaster. As well as being the Gresham Professor of Music between 2010 and 2014, he was the founding director of the Academy of Ancient Music for over thirty years, before holding positions at the Royal Academy of Music, the University of Cambridge and Cornell University.
Born in Nottingham in 1941, Christopher Hogwood studied at the University of Cambridge, before pursuing keyboard studies with Rafael Puyana in Spain and subsequently with Zuzana Ruzickova in Prague and Gustav Leonhardt in Amsterdam. Whilst keyboardist with the Academy of St. Martin in the Fields, Hogwood founded the Early Music Consort with David Munrow in 1965 and the Academy of Ancient Music in 1973, institutions set up to promote the performance of baroque and early classical music on period instruments. Director of the AAM until 2006, he produced more than 200 recordings for Decca and revolutionized the way music is performed, recorded and heard. Equally at home in the neo-baroque and neo-classical repertoire, Hogwood regularly conducted leading opera companies and major symphony orchestras around the world. He was awarded the Martinu Medal in Prague in 1999.
A celebrated keyboardist and important collector of historical instruments, Hogwood made numerous solo recordings on harpsichord did much to promote the clavichord. His Secret Handel, part of The Secret Clavichord series of CDs, was awarded a Diapason d'Or in January 2007. Also a noted musicologist, Hogwood edited music from the sixteenth to the twentieth centuries, including work by John Dowland, Felix Mendelssohn, Edward Elgar and Igor Stravinsky. He was chairman of the advisory board overseeing the new edition of Carl Philipp Emanuel Bach: The Complete Works. He also wrote on Handel, Haydn and Mozart and his final major work was Handel: Water Music and Music for the Royal Fireworks. His work on Handel - editing, performance, recording and writing - brought him numerous awards, including the Halle Handel Prize 2008.
Appointed Fellow of the Royal Society of Arts in 1982 and Commander of the British Empire in 1989, Professor Hogwood's final positions were as Honorary Professor of Music at the University of Cambridge, Andrew D. White Professor-at-Large at Cornell University (USA), and Visiting Professor at the Royal Academy of Music, London. He holds Fellowships at Jesus and Pembroke Colleges, Cambridge and also as a member of the Senior Common Room at Lowell House, Harvard University. He received an Honorary Doctorate in Music from Cambridge in 2008.
Professor Hogwood was the Gresham College Professor of Music between 2010 and 2014. His series of lectures were: Aspects of Authenticity (2010-11), The Making of a Masterpiece (2011-12), European Capitals of Music (2012-13) and Music in Context (2013-14).
All of his lectures can be accessed here.
Professor Hogwood was unable to deliver all of his lectures in his final series due to illness and it was with great sadness that the College learnt of his passing away in September 2014.
Other themes