Professor Virginia Berridge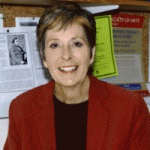 Virginia Berridge is Professor of History and Director of the Centre for History in Public Health at the London School of Hygiene and Tropical Medicine, University of London. She has a B.A.(Hons) and a PhD in History, both from the University of London.
Her personal research interests are in the history of twentieth century health policy with a special focus on the 'contemporary history' of health in the last thirty years. Her recent work includes HIV/AIDS policy, illicit drug policy, the development of ideas and concepts of public health in the post war period, and the relationship between research and policy.
Other themes